History of Batu Caves Malaysia
What is Batu Caves tourism in malaysia? Batu Caves is a religious tourism object located in Kuala Lumpur, Selangor, Malaysia. At this attraction you will enjoy stunning views of limestone and temples nestled in caves.
History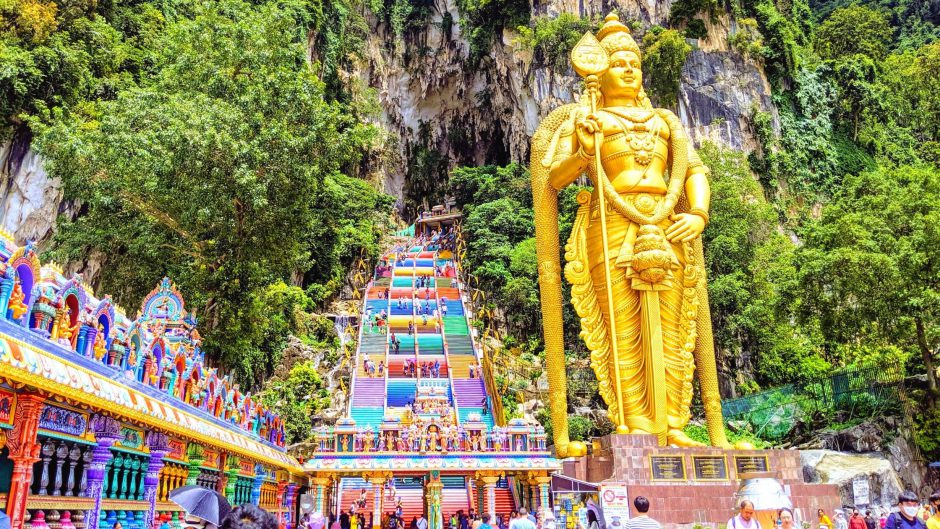 Source : goplaceswithkids.com
Based on the circulating story, Batu Caves could become famous because it was promoted as a place of worship by the colonial government in 1878 ago. Then, in 1890, around the limestone hills was erected a temple and named Temple Caves. The limestone forming Batu Caves is said to be around 400 million years old
Facts
Source : localguidesconnect.com
This religious site as well as a Hindu temple is able to attract thousands of tourists because of its uniqueness. Here are some interesting facts about Batu Caves that you need to know ;
1. The sight that will immediately catch your attention is of course the statue of Lord Murugan. This golden statue towers a giant as high as 43 meters.
2. There are colorful stairs totaling 272 pieces. Those stairs can take you to the Dark Cave and the top of Batu Caves
3. The location of the Dark Cave is before the top of the cave, precisely on the left side of the stairs. It contains several types of protected flora and fauna.
4. There are more than 160 climbing trails with routes consisting of climbing limestone hills as high as 150 m.
Read More : Modest Inns Close To Singapore Chinatown – Book Your Hotel Now
Fees and additional Information
Source : tripsavvy.com
To be able to enjoy the Dark Cave, you will be charged a tour fee of RM35 for 45 minutes. You will explore the cave along approximately 850 meters. Meanwhile, to arrive at the top of the cave, you have to continue up the stairs until you reach the top.
If you visit in January, you will have the opportunity to witness the Thaipusam Hindu Festival at Batu Caves. Thaipusam is held to commemorate the birthday of Lord Murugan.
Batu Caves Malaysia is quite easy to reach by car or taxi as it is located right beside the main MRR2 highway around Batu Caves. Besides using a car, one of the other means of transportation that you can take to get to Batu Caves is the KTM Komuter from Kuala Lumpur to Batu Caves station.
The ticket cost is around RM2.6 with a travel time of about 30 minutes. In addition to the two previous transportation options, you can also use the monorail and bus to go to Batu Caves. From KL Sentral, you can use the monorail service to Titiwangsa station. From there, then you need to take a bus to Batu Caves.